Experts Across Commercial Industries
We work flexibly and collaboratively to understand your business' specific objectives and challenges to drive results.
Whether you are selling products or providing services – to either consumers or other businesses – our technology, innovation, and business process strategies can help you work both more efficiently today and more adaptable for the future.
From building a strategic roadmap to helping your business evolve with your systems, Veracity is a certified women-owned (WBE), LGBTE, and Native American-owned (MBE) business and technology consultancy that serves as an extension of your team every step of the way to keep you operating effectively at the forefront of change.
How We Work:
Our Proven Process

01
Align
We start by understanding our clients' business challenges and needs at a deeper level to then apply the right skillsets, methodologies, and tools to achieve a successful engagement outcome.

02
PLAN
We work collaboratively to prepare for and initiate the engagement so that all stakeholders are on the same page regarding the project's goals, objectives, and expected outcomes.

03
Deliver
We consult, perform activities, and produce the deliverables needed to achieve the desired outcome, ensuring transparency and alignment throughout the engagement.

04
Transition
Our commitment to success means that we focus on achieving the objectives and outcomes of the engagement, equipping our clients with the tools they need for both immediate success and continued growth, even if our direct services conclude.
Our Approach to Your Success
We don't settle for wrench-turning. Veracity's client-centric approach allows us to understand your company, opportunities, and challenges better than anyone and then develop solutions that are tailored to your specific needs. Whether you are looking for a partner for a specific project or ongoing services, we can help.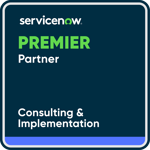 ServiceNow + Veracity
Veracity is a Premier ServiceNow Consulting Partner with a perfect client satisfaction score. And as a consultancy that specializes in optimizing companies' business performance, we bring both the platform capabilities and organizational expertise to develop solutions that drive results.
Ready to transform your business?
Veracity's client-centric approach allows us to examine challenges and develop solutions that are tailored to their specific business. Fill out the form to get in touch with one of our experts to see how we can help position you for success both now and in the future.
THE LATEST FROM VERACITY
Learn from our experts, gain insights and follow current trends in technology and business strategy right here in our blog and newsroom. Subscribe to get the latest from Veracity delivered straight to your inbox.